The YesClient is the application you need to increase the flow of sales of your company.
You can start using the system for free and without commitment for only one available user.
However, we have available monthly and yearly payment plans for packages which comprise up to 10 users.
To get more details about our plans and contact us via e-mail or by phone packages.
You may also, at any time change your plan or cancel your registration.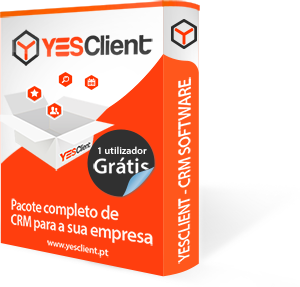 5 Users

25 €/Month

or

270€/Annual
10 Users

40 €/Month

or

420€/Annual
15 Users

45 €/Month

or

540€/Annual
25 Users

55 €/Month

or

750€/Annual
5 Users

4,5€/user/month

90 Days – 67,50€

annual value – 270 €

4€/user/month

180 Days – 120€

annual value – 240€

2,5€/user/month

365 Days – 1 payment

annual value – 210€
10 Users

3,5€/user/month

90 Days – 105€

annual value – 420€

3€/user/month

180 Days – 180€

annual value – 360€

2,5€/user/month

365 Days – 1 payment

annual value – 300€
15 Users

3€/user/month

90 Days – 135€

annual value – 540€

2,5€/user/month

180 Days – 225€

annual value – 450€

2,5€/user/month

365 Days – 1 payment

annual value – 360€
25 Users

2,5€/user/month

90 Days – 187,50€

annual value – 750€

2€/user/month

180 Days – 300€

annual value – 600€

2,5€/user/month

365 Days – 1 payment

annual value – 450€
Charging

 

25€

 

 

50€

 

 

75€

 

 

100€

 

 

150€

 

 

200€

 

 

300€

 
Operators

MEO

NOS

Vodafone

MEO

NOS

Vodafone

MEO

NOS

Vodafone

MEO

NOS

Vodafone

MEO

NOS

Vodafone

MEO

NOS

Vodafone

MEO

NOS

Vodafone
Qty SMS

 

500

 

 

1070

 

 

1650

 

 

2250

 

 

3500

 

 

5000

 

 

8200

 
Price /SMS

 

4,1 Cents

IVA not included

 

3,8 Cents

IVA not included

 

3,7 Cents

IVA not included

 

3,6 Cents

IVA not included

 

3,5 Cents

IVA not included

 

3,3 Cents

IVA not included

 

3 Cents

IVA not included